{this post was inspired by
Zak S's
duelling rules on his Playing D&D With Porn Stars Blog}
WHY DUELS RULE, or, HOW YOU SHOULD LEARN TO STOP WORRYING AND LOVE 1-HANDED WEAPONS
Everybody knows why you would want to fight with two weapons - you can make flurries of attacks and parries.
Everybody knows why you would want to fight with a weapon and a shield - it provides extra defense.
Everybody knows why you would want to fight with a large, two-handed weapon - it does more damage and threatens a wider area.
However, there is very little impetus to use a one-handed weapon without a shield or side-arm in Old School D&D.
There are a few obvious reasons:
You can carry a torch or another utility item in the other hand, like a 10-foot pole
It frees the other hand for tasks like climbing
i'm sure you can think of others
but there's very little reason to want to use only a single hand-weapon in combat,
DESPITE THE FACT THAT PEOPLE IN HISTORY AND FICTION DO IT ALL THE TIME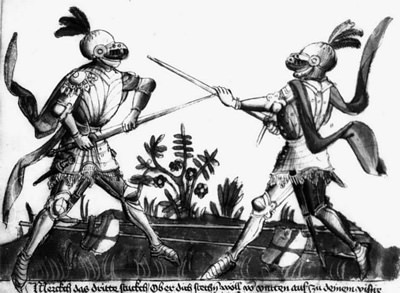 In Kos, the reason people do this is because the focus that comes from using a single, one-handed weapon (usually a sword, but it could be anything) (or your bare hands) allows you to engage in DUELS.
HOW DUELS WORK
You pick an enemy. The most badass thing to do would be to pick the toughest-looking enemy, but you can pick anybody. ENEMIES/MONSTERS CAN ALSO CHALLENGE YOU TO A DUEL.
the RULES of DUELS:
- You can only challenge another guy to a duel if you are wielding a single, one-handed weapon with no shield; but you can challenge other guys even if they have a different weapon configuration. EXCEPTION: if you have just your bare hands, you can issue a challenge
- the other guy must be a sentient monster or humanoid. you can't duel an ooze or a tiger or a mindless berserk ogre or something.
- the other guy must have a weapon. this is part of the Duellist's Code. EXCEPTION: if both are unarmed, it's okay.
- you can't duel somebody who is running away, paralyzed, asleep, or otherwise incapacitated. just
coup de grace them, you drama queen.
THE DUEL BEGINS
the duel happens concurrently with all other combat. Everybody rolls initiative as normal, and the duellists act on their turn like anybody else.
STEP 1. the two duellists single each other out, making eye contact and bandying some Fightin' Words. If the defender is a coward, he can attempt to flee the combat at this point and immediately acts as though under the effects of a failed morale check. If you don't feel like using the morale rules (which i normally don't), the coward is simply removed from combat. This step occurs on the turn of the challenger, but takes no time and is followed immediately by STEP 2.
STEP 2. if neither duellist flees, the two duellists decide their fighting stances. Each duellist must secretly declare his fighting stance to the DM:
FEROCIOUS: +2 attack, -1 AC, must attempt to charge as soon as possible
NEUTRAL: no bonuses, must attempt close to melee range as soon as possible
CAUTIOUS: +2 defense, cannot move more than 5 feet.
missile weapons can be used.
if the challenger chooses the "CAUTIOUS" stance, then he must wait until the opponent's turn for the opponent to choose his stance. Otherwise, the opponent can choose immediately.
if both duellists choose "cautious", they circle one another aimlessly this round.
Once the Duel has begun (ie, the Duellists have chosen their stances), nobody else can attack either duellist. The duellists are so focused on one another that any other attackers are batted aside like mosquitoes.
Once the duellists close to melee, other combatants with missile weapons attempting to target one duellist have a base 50% chance of hitting an allied duellist, even if they miss.
Area-of-effect threats like fireballs or avalanches can still effect one or both duellists.
Sometimes, other combatants might even circle up and chant "FIGHT! FIGHT!" and cheer for their champion. this mostly depends on the nature of the other combatants (base 1 in 3 chance, higher for martial cultures like orcs). the winner's side gets a big ol' bonus to morale
STEP 4. once the duellists start moving towards each other, any other combatants move out of the way, because they realize this is Serious Business, and the duellists provoke no attacks of opportunity if they are moving in a bee-line to each other or maneuvering in combat. They can move directly through other combatants as though they weren't there. Terrain still has normal effects. Normally, the two duellists move towards each other by the most direct route possible; in unusual circumstances, DM's judgment prevails
The duellists act on their initiative, just as normal, but until the duel ends, they can only attack one another.
They can change their stance at the beginning of their turn, if they want to.
Duellists are, of course, allowed to use whatever spells, dirty tricks, combat moves or unfair advantages they can think of.
THE DUEL ENDS
The duel can end one of 3 ways:
1. one or both combatants are killed or incapacitated
2. one combatant admits defeat. This means throwing your weapon away and assuming a posture of surrender. It's up to the winner what happens at this point.
3. one combatant attempts to flee. Normally, this provokes an attack of opportunity. Under most circumstances, this means the end of the duel.
4. the duel is broken up.
BREAKING UP A DUEL
other combatants can attempt to break up a duel. To do so, you must:
Roll an attack check against both combatants.
SUCCESS AGAINST BOTH: you do no damage to either but the duel has ended. The duellists can still attempt to engage one another again, on their respective turns.
SUCCESS AGAINST NEITHER: you are unable to do anything and the duel continues.
SUCCESS AGAINST CHALLENGER, BUT NOT DEFENDER: the challenger automatically strikes the defender on his next turn, because you foolishly got in the way and prevented an effective parry
SUCCESS AGAINST DEFENDER, BUT NOT CHALLENGER: you automatically take damage from the challenger, by blocking a strike with your own body.
Other circumstances may break up a duel, such as a chasm suddenly opening between the duellists, or a Mass Hold Person spell. DM's discretion.
"BUT WAIT A MINUTE! MANY OF THOSE HISTORICAL/FICTIONAL DUELLISTS WERE USING TWO-HANDED WEAPONS!"
Actually, most of them weren't. Weapons like katanas and bastard-swords were popular because they could be used either one-handed or two. the grip could easily be shifted to accommodate changing tactics in a duel, or the empty off-hand could be used for grappling/defense.
"BUT WAIT A MINUTE! COULDN'T YOU ALSO CHALLENGE SOME BODY TO A DUEL EVEN IF YOU HAVE A TWO-HANDED WEAPON OR A SHIELD?"
You could certainly role-play a challenge, but you don't get any special rules. Two-handed weapon specialists don't have the finesse or poise necessary for dueling. Big weapons are designed for smashing spear-walls or clobbering giant monsters. They can accept challenges, but not offer them.
Likewise, shields are cumbersome and are meant to protect from missiles and multiple attackers. They block views of opponents and are meant for the overly-cautious.
Two archers or two wizards can single each other out for duels, though!
So that's why you might want to use a single-handed weapon in Kos