Recipes

Tin-Foil Chicken
Ingredients:
1 6 - 8 pound chicken
1 tablespoon mixed salt, rosemary and garlic pepper
Sheet of tin foil
DIY aesthetic
Contempt for societal mores
1. Rub the chicken down thoroughly with spices
2. Burn down a church built on a heathen hof
3. Wrap the chicken in tin foil, and inter it in the smoldering ashes
4. Kill your bandmate
Cereal
Ingredients:
Cereal bowl
Existential angst
Unhealthy holocaust fixation
1. Maintain artistic integrity by buying the lowest-quality cereal and milk possible
2. Evoke a minimalist atmosphere by adding only one or two flakes of cereal in the bowl and no milk
3. Take a lo-fi photo of the cereal and release 10 copies on a limited basis with no promotion
4. Later disavow it utterly, citing crass commercialization as being corruptive to your creative intent
5. Commit ignominious suicide
Ingredients:
8 - 14 pound turkey
1. Empty your freezer of all other foodstuff
2. Place the turkey inside. Close the freezer door, entombing the turkey corpse in complete darkness, cold, alone.
3. Let it lie for 100 years.
4. Distance yourself emotionally from friends and family
5. Exhume the turkey. Gnaw it in the dark, isolated from all others. Savor the frost
Idea for Suckling Pig-Roasting Method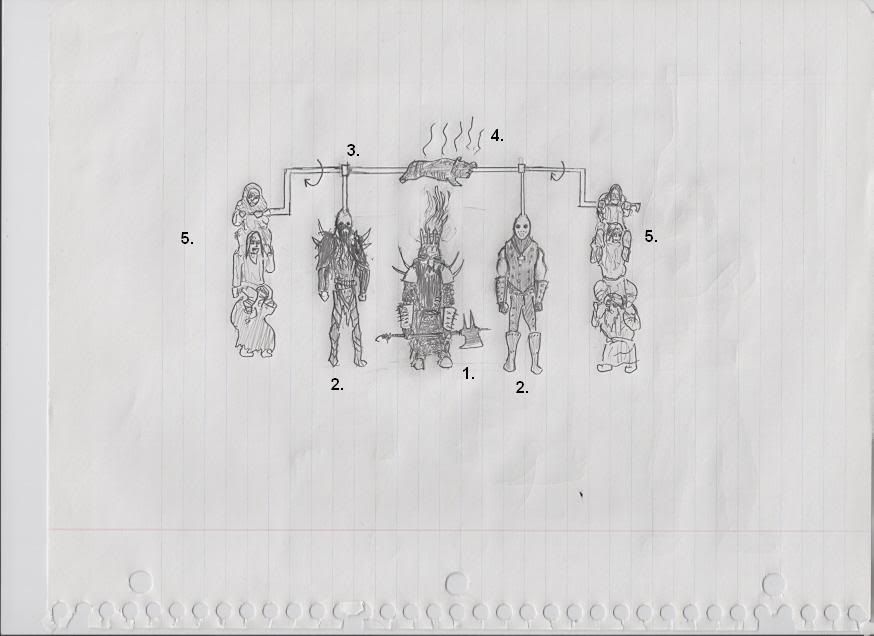 1. The Thane stands in the middle. Atop his head is a crown-brazier, piled high with flaming coals. The coals burn his head; stinging sweat runs into his eyes and the heat is often nigh unbearable.
2. To either side must be placed a stout theow of unusual height. These will be amongst the most valued of the thane's warriors. Their helms support the spit.
3. The spit is threaded through the rotaries of both spit-theow's helmet-poles. It is about twelve feet of steel.
4. Suckling pig is spitted here, and is roasted by the flames from the thane's burning crown. Pig can also be replaced by a lamb or several chickens.
5. Thralls on each side stand upon one another's shoulders in order to reach the turn for the spit. Generally it requires three thralls, although it may be less if one is of unusual height. This is rare; most thralls are bent-backed and sickly. They must constantly ensure that the spit is turned so that the pig cooks evenly, or else they will suffer torment and death. The turn-thrall on the bottom is accounted the lowest of all men.